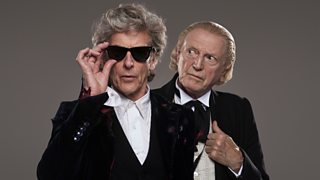 On the subject of Doctor Who, I've been working my way through the last series stacked up on my video recorder. I don't think I've missed an episode since William Hartnell days, but I have to say the three episode with the zombie monks was fucking dire, especially the third part. It reminded me of The Prisoner where McGoughan couldn't figure out how to end it so he came up the most unintelligible loads of pseudo bollocks that ever graced the British TV screen – that is until this latest shit with the monks.
No wonder Capaldi says he does want to make any more. These scripts and characters (the Matt Lucas cunt, Bill the Lezza and that bloody Missy) are absolute bollocks – and the acting is crap too. It's had it's day so consign it to the dustbin where it now belongs.
As far as I'm concerned, the Moffatt cunt can shove his sonic screwdriver right up his arse. He's completely destroyed an iconic piece of TV history.
Hartnell must be turning in his grave…
Nominated by Dioclese