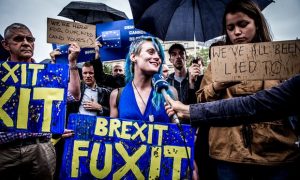 Remainers are mostly unknowingly but without doubt when it comes to the political class selling global corporate fascism as a good thing. These people are without doubt enemies of the people and despise democracy.
Our economy will only fail if there is a deliberate internal and external attempt to undermine it. Tony Blair is one of the loudest voices calling for another vote, we know Tony like a sheen of a democratic mandate but really doesn't give a fuck as along as the plan goes ahead.
Cunts to the last.
Passing sovereign rights and control to a foreign power is the definition of treachery.
Nominated by: Sixdog Vomit
29/10