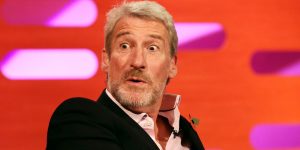 Jeremy Paxman is a grade a cunt…."have you no compassion" the bulling old hypocrite cunt asks UKIP's Suzanne Evans.
Whilst our own orphans are kicked onto the street to live in squalor on their 18 birthday, this bag of shit claims we should be responsible for the entire male progeny of some illiterate spunk bag call Fatima in Sudan who has kicked out 20 wogs in twenty years.
We are bankrupt and can barely afford our own poor let alone Islamic wogs that breed luke cockroaches. The home office claims dental checks are invasive and immoral….no such charity with our own poor us there? Where dustbin content checks by some old bint at the council and welfare sanctions are the norm. Paxman was investigated for paying his Romanian cleaners less than the minimum wage in 2007 to clean his London mansion, at the time it was reported he was earning nearly £1 million per annum from the licence fee.
Nominated by: We've got a cuntbox