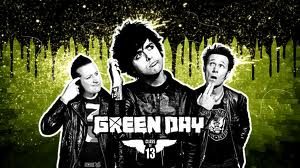 Green Day are cunts and American idiot cunts at that. In particular the lead singer: Two quotes from this punk rebel below:
Rock group Green Day say they "fully support" the protests against US president elect Donald Trump.
"I don't think any of us were prepared for Donald Trump to be president," singer Billie Joe Armstrong told the BBC.
"I think there's going to come a time when the protests get larger and larger – and that I fully support."
The star, who has been an outspoken critic of Mr Trump, said he felt like his "country is being set on fire".
Green Day frontman Billie Joe Armstrong publicly supported Hillary Clinton in the presidential race, branding her the only choice while calling Donald Trump "evil."
He tells Beats 1: "There's only one choice for me and that's Hillary Clinton. What a lot of liberals need to understand is there's never been a candidate that has come this far that has had this much of a liberal and a progressive agenda.
"Just because she has just got this baggage that comes along with her, and it's not even really baggage, compared to Donald Trump she is basically a school teacher.
Wall street establishment child rapist defence council Hilary either did a really good job of pulling the wool over your eyes or your a paid up establishment shrill.
By the way your music is a parody of anything potent and your a massive cunt.
Nominated by: Sixdog Vomit