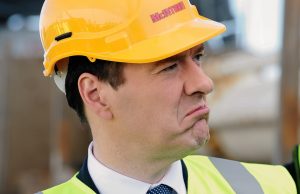 Gideon Osborne is a patronising cunt.
Saying now that he wants the closest possible relationship with the EU post Brexit. He claims that Theresa May should remember that Britain did not vote for a "hard Brexit". How the fuck does he know the motivation of the electorate when he misjudged us as idiots who would blindly believe his propaganda of financial armageddon which has proved to be complete bollocks.
I really wish TM would release a statement saying that if she gave a toss what Gideon thought she wouldn't have sacked him. This cunt talked down the economy so much during the referendum that when the vote came in the economy took a temporary nosedive.
Osborne should apply to be a PA to the snarling arrogant cunt Schultz. He would enjoy being his bitch. Say what you like about Cameron at least he had the decency to quit!
Nominated by: Shaun of the Dead 69
I wish Gideon Osborne would take his Northern Powerhouse and shove it up his arrogant little arse. Kicked out of number 11 he's got himself a nice little slot oop north as chairman of the Northern Powerhouse Trust whatever the fuck that is.
I now hear he's biding his time until Brexit gets all fucked up and he can challenge May for the leadership. The little shit actually believes he can still be PM and that people will actually vote for him.
Deluded little cunt!
Nominated by: Dioclese