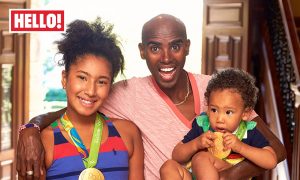 I notice Farah's missus is blabbing to the press about how her 'Olympic Champion' husband was 'humiliated' by US airline staff… She claims he wasn't believed when he said he had a first class ticket… But it was probably him just being told to wait his turn…
Full 'Don't you know who I am?' routine automatically deployed… 'You can't do that! That's Mo Farah (drum fucking roll) Olympic Champion!'….. They're going to dine out on that for years…
As the late Mrs Merton would say: 'Tell me, what first atracted you to the millionaire, Mo Farah?'
Nominated by: Norman
I feel for Tania Farah.
Having been forced to wait in the queue with all the other scum when you've bought a first class ticket is just not on.
Just because her old man is a plastic Brit born in Somalia does not excuse this sort of disrespect…
Fucking jumped up tart!
Nominated by: Dioclese