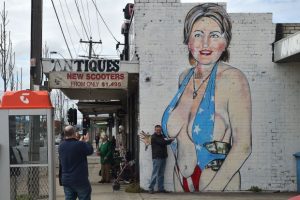 After weeks of speculation about Killary's health and after she had a coughing fit last week, today she fainted at an event to comemorate 9/11. I'm sure you will all join me in wishing her a full and speedy recovery
Nominated by: Skidmark Eggfart
Ah poor Killary, something serious I hope. The stupid cunt is actually making Trump look good except I can't take him seriously because trump is synonymous with fart where I come from. I might proudly wear a basket if deplorable T shirt though.
Nominated by: Alan Fistula
She is the epitome of the modern politician.. Out of touch with the voters, condescending, ignorant, self serving, blinkered, biased, untrustworthy, weak, venal, perverse, perverted, anti-British, two-faced,stupid, selfish and to top it off….as ugly as a butt-fucked warthog.
A pox on the whole stinking bunch of them
Nominated by: Dick Fiddler