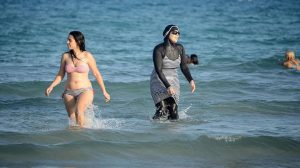 Now the Burkini was banned in lots of French seaside resorts. It was enforced by the police.
The libtards got their leftie pants in a twist and decided that to ban this burka for swimming was an acronym to feminism.
The left wing uk media kicked and screamed about how it was the first step towards nazism and now the ban has been over turned.
So you have the media and feminists sticking up for Muslim rights. On principle.
If these utter cunts, particularly feminist cunts took a moment to climb down off their very high horses, they might realise that Muslims are the biggest mysoginists on the face of the planet. Islamic ideals are about as far from feminism as you can get.
The media cunts have dressed it up as being about freedom.
"You can't tell women what they can and can't wear"
The ban isn't about dress.
It's about one simple thing that the media refuses to address….
The pervasive encroachment on everyday life of Muslim religion.
This has to be stopped.
This is a line in the sand and will indicate which way we are going with this invasion.
It's a political game of football and if the Muslims win, they know it's game on and sharia law is the next battleground.
They will inevitably dress that up as something else ie- freedom, to get their way too.
You Gotta hand it to the cunts.
Studied our weaknesses to use against us.
And while I'm at it- that cunt Muslim mayor Khan- his first action as mayor was to ban pics of birds in bikinis on London transport advertising.
Dressed it up as protecting body issues of course.
Turbo charged dangerous cunts the lot of them.
Nominated by: Lord Ferrigno