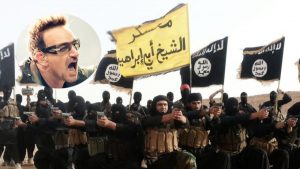 I would like to cunt ISIS again.
Turns out, when that micrococked, bum boy adherent of the religion of piss was mowing down innocent civilians with a fucking massive truck, he totally fucked up by missing Bono.
Bono, it transpires was having dinner in a nearby restaurant with a bunch of his cunt mates when the horror unfolded.
Being the fearless eco warrior and tax evader extraordinaire that he is, what did Bonio do?
Did he:
A. Tear his shirt off and run full tilt towards the truck in an attempt at shielding innocent women and kids from the Islamic faggot's onslaught?
B. Grab a fallen gendarme's gun and attempt to shoot out the trucks pneumatic braking system, thereby making the brakes lock on, before dragging the muslim goat rapist out of the cab and ventilating it's skull several times?
C. Shit himself and run full speed inside the restaurant as fast as his short little legs could carry him, while being protected by minders. Only emerging once the emergency services could stop him crying, release his grip from the leg of the table he was hiding under and bring him some fresh pants….which had to be flown over from Dublin in a private jet?
I'll let my fellow cunters make their minds up on that one.
But, I have this to say to ISIS:
"You useless, stupid, fuckwit cunts!!! You could have made a fucking name for yourselves and actually got some fucking respect if you had just hit Bono. Nobody else, just Bono!"
Anyway, its too fucking late now, you fucked it up royally. I hope you catch goat AIDS and die a slow and painful death.
Fucking twats!
Nominated by: Odin's Balls