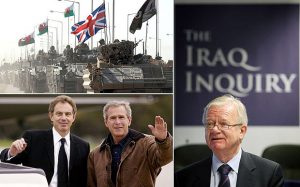 That chilcot report is the biggest fucking whitewash in the history of whitewashes no wonder it took so long. They were thinking of a way to severely edit it then come out and say it was a big misunderstanding.
The edited Chilcot Report basically says Iraq War was Just a Big Accident by Dumbasses and they shouldn't be punished because they are corrupt millionaire politicians so lets just let them off the hook and public are too stupid to understand any of this . Report doesn't blame anyone for anything other than stupidity.
Chilcot portrays Blair as irresponsible and confused but loyal, failing to do his due diligence in examining the intelligence. But we know the intelligence was fixed by the Bush government and we know Blair knew the intelligence was fixed. These are both 100% established facts.
This is mind boggling How could anybody even be stupid enough to believe in the lies of democracy anymore?
Nominated by: Titslapper

The Chlcot Report. You couldn't make it up!
Oh! Hang on! They just did…
Noinated by: Dioclese