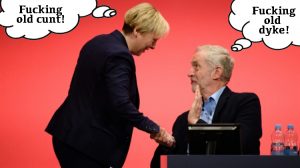 Angela Eagle is a cunt. By the way What is it with fat politicians named Angela? cause they all look dumb and ugly as a dog's arse.
Angela the fat dyke is bitching and moaning because Corbyn went against his own party's interest for the Brexit crowd at the last minute. Maybe the fat dyke needs another sandwich instead or whining like a loser?
Also I don't know whats gonna happen Both the Labour and Tory parties are complete crap, and now that Nigel has quit the UKIP party, there probably isn't any third party strong enough to win. Also Boris Johnson is a bastard
Nominated by: Titslapper

The Eagle has landed…
Thankfully not on top of me!
Nominated by: Dioclese