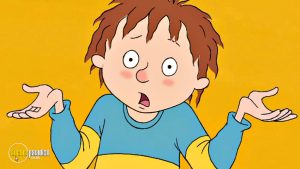 Horrid Henry is a cunt. I guess the clue is in the name, but literacy for children should have some sort of moral thread holding the story together so the young shits can learn something. But Horrid Henry is just a cunt. A pure little cunt.
I bet new, hip mums pour this little arsehole down their kids throats because it had a good write up in Grazia or some such wank, without actually realising they're just informing their mini-cunts in a lifestyle of being a selfish, obnoxious, camp, thick as fuck, cunt.
I have to witness my step-kids drooling over this dog shit, if I have a child of my own it will be Trapdoor, Braveheart and Chock-a-block on Youtube to entertain the pricks.
Nominated by: Cunt O'MaCunto