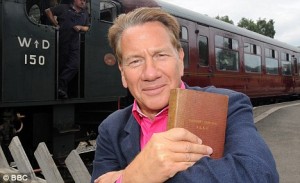 Michael Portillo deserves a good cunting.
I Just turned on the TV, for some reason it was on BBC 1 and I was greeted with Andrew Neil on some politics wank. That was bad enough and almost had me sticking my foot through the TV but imagine my surprise to see the fat, bloated cunt that is Michael Portillo sitting there with a smug grin on his face like he had just arse raped a fox on a spring hunt with his Tory chums.
This fucking Tory turd burglar possesses possibly the most punch-able face on TV, he is up there with Philip Schofield.
If I won the lottery I would hire the O2 arena, book Portillo & Schofield via their agents and buy a 3 wood golf club, I'm sure you can guess the rest!
Alas that will never happen, you have more chance of Jimmy Savile turning up on BBC Breakfast to apologize than winning the lottery these days!
Nominated by: Boaby