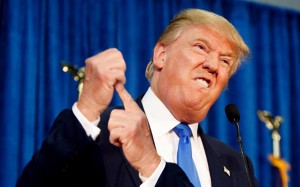 Donald Trump is a cunt.
The reasons are self-evident. I could spray paint a piece of dog shit orange, draw an angry face on one side, stick a red toupe on the top, and it would look exactly like him, only better. And at least it would just sit there and stink, rather than stinking and making noise.
If he wins, I'm going to start a petition here in the US to become a British colony again, because clearly we're not up to the task of self-government.
Nominated by: Dismayed American
(We don't want you back! Ed.)