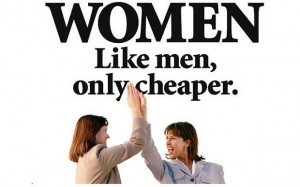 I'm getting very fed up with hearing about pay inequality.
Now, I don't know what happens in the private sector, but public sector pay is non-gender specific. Plus the ladies get pretty generous maternity leave for when they realise they're not going to make anything of their lives so decide to spawn instead. I'm assuming the "pay gap" comes when they take career breaks and other forms of unpaid leave to bugger about with their kids.
So the reason you're paid less is because you aren't at work.
Can't see the injustice myself, but of course I'm a typical product of the phallocentric misogynist hideously white society etc etc etc
Nominated by : Guardian Hater