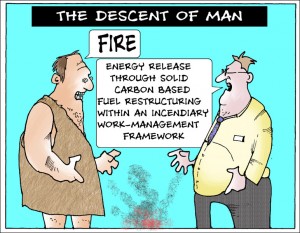 Management speak is hereby nominated for a good Cunting……
Before I saw the light it had been my great misfortune to be at some management meetings; fuck knows how I got roped in, made to wear a collar and tie, talk about a duck out of water.
Anyhoo. I thought senility had set in when I couldn't follow some of the tossers. I understood all the words, but I'll be fucked if I knew what they were on about. I give you some of the those that make the old eyelid twitch and the fingers long to be holding a cunting stick. Best grade one Cunting sticks are usually made from ash and are normally supplied with an optional attachment called a pick at the business end.
Prime examples of fucktard speak:
ballpark figure – Never wanted to own a ball park.
mission critical – Is it about to explode?
think outside the box- Not if you're an opening bat facing Big Bird you don't.
blue-sky thinking – Where I'd rather be than here.
there is no 'I' in team – *Mutter* "But there is in TIT!" (Which is why I don't need to attend management meetings any more).
take it to the next level – Which apparently is not an invitation to engage in fisticuffs. (Ditto above).
put the toothpaste back in the tube – Which resulted in coffee snot and a one way ticket back to my lurry cab (showing my age there) and my card marked: 'attitude issues'.
I'm sorry management I only speak English and a colloquial variant of Anglo Saxon at the best of times, you fuck-pig Cunts!
Nominated by: King Cnut