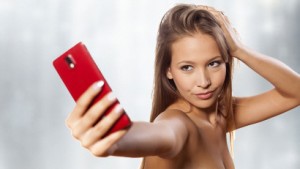 Skanky whores who take selfies with their tits out and then complain when the pictures find their way to the internet. Doh! What did you think was going to happen you stupid cunt? If you do not want your tits plastered all over the internet, do not take pictures of them in the first place, fucking simple!
It all stems from a growing and deeply disturbing trend in society for not taking responsibility for your own actions, when shit happens it is always some one else's fault which is at the heart of all liberal social theory since the 60s. Wrong, cunts!
Nominated by: Fat Rich

Fucking dozy slags – they think that 'selfie' they sent to Dave will not be forwarded to all his mates within 12 seconds of receiving it. Delusional!
That is a bit out of order, granted, but the slags who post all these pics to Facebook & Instagram deserve everything they get, is it not stated by Facebook that EVERY picture you upload belongs to them and they can sell, redistribute and essentially do what the fuck they want with it.
And the best bit of irony about these dumb sluts is that they are all fucking mingers anyway. the exact same poses, the exact same 47 degree above the head pointing down shot (to mask their 14 chins) and of course, always taken in to a mirror.
Pathetic!
Nominated by: Bob Carrolgees