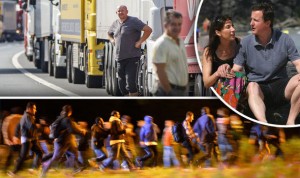 Bugger me butler, getting reliable gen orn the Calais chaos is like trying to count paedos in Rotherham. Cameron and crew are all about laying smoke screens orf lies to obscure what is going orn from the British people. The best that me intelligence committee can make oit is this. Far more wog scum are fucking orf from frogland and getting over to dear old Blighty to claim benefits than is being let on and this has been going orn for months. Police chiefs various across the country are saying that they are seeing 500 extra or more orf said wog scum orn a daily basis. Confirmed by what les frogs are saying, 1500 – 2000 a night storming the tunnel a day who then vanish to be replaced by similar numbers orf wog cunts and so it goes orn. Said wog cunts must be going somewhere and I have me shrewd suspicions. South Coast where we withstood the full force orf Hitler is once again under siege.
Know an old cunt does a spot orf farming down Hastings way. On the road is the ferry port orf Newhaven (run by the fucking frogs) and close to it is an old army camp name orf Tide Mills. Crawling with wog cunts, tents, cooking fires ect which the local council pretend to know nothing orf. Other land owners report much the same thing. Where once there were Poles and Romanians and now that they are nicely housed, their camps have been taken over by the wog cunts.
What is Cameron doing about this liberty? Bugger all. All the cunt does is fuck orf orn holiday. Red mist rises. To think that this once great nation possessed Calais. Take the piss hole back again and let the Paras run it. Sort the cunts out. Flog orf all the flash motors with UK plates that the frogs have seized from the dodgy cunts fronting for the wog cunts. Sell hunting licences to yank dentists and let them patrol the tunnel. This side orf the Channel we have our shot guns ready.
Nominated by: Sir Limply Stoke