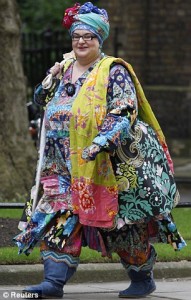 The egregious Camilla Batmanghelidjh orf Iranian extraction has been tapping a tidy old living oit orf waifs and stray kiddies for nigh orn two decades. Founded Kids Company, saintly intent, tireless charity worker on behalf orf said waifs and strays, honorary CBE ect ect no doubt and permanent bleeding heart fixture on BBC, Guardian, Red Nose Day et al. Has hoovered up any charity cash going – reported £9 million from HMG, £1 million from the Lottery ect ect – only fly in the ointment has had to "step aside" (one orf Sir Limply's favourite moves in the old dance orf corruption) due to more creative financial direction than a blind punter would receive in a Cairo bazaar. Chairman orf Kid's Company is that honorary cunt and Creative Director orf the BBC, two jobs and two pensions Alan Yentob (rented a room to his daughter once but that is another cunting).
Also undoubtedly scurrilous reported allegations from online sources that Kid's Company has been a breeding ground for paedos.
In short she is alleged to have been running a vast charitable empire orn a cash in hand basis and appears at a loss to account for the fate orf vast amounts orf moolah. In a previous life when yours truly had connections with theatrical presentations orf an artistic nature in praise orf the female form, met the old cunt orf many colours at fund raisers various. Attempted to tap her for a spot orf inside gen on the great and the good but the filly would talk solely on a cash or goods in kind basis alluding, I took it with horror, to her garden orf Venus. Now slightest whiff of money and your pukka indigent aristo is usually orf after the fox in a flash but all I caught was the aroma orf a three day dead camel. The offer was declined.
Nominated by: Sir Limply Stoke