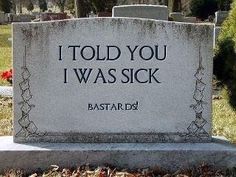 Hypochondriacs deserve a good cunting.
I am not talking about those messed up hypochondriacs that need psychiatric examination. I am talking about them fucking feckless depressives with irrelevant superficial little ailments that clog up GP surgeries and hospital A&E departments.
Oh dear..my darling child son has a slight cough and bit of a fever temperature, I must see a doctor NOW. Doc…I'm so down and feel depressed and anxious…please help me. Oh…my tummy is rumbling and it hurts a bit – I may have a cancer tumour, I must rush to A&E NOW. Got a bee sting? Got an ankle sprain? Had a little accident and cut your finger requiring a dab of disinfectant and a plaster? Oh dear I must see a doctor NOW. I paid my national insurance, why should I pay 25p for a pack of supermarket aspirin to cure my head cold…I'm going to visit the doctor at the surgery and get some free prescription medicine.
Wishful thinking…If I was a NHS doctor I would tell these cunt hypochondriacs to stop wasting tax payers money and fuck off. There is nothing wrong with you.
On those rare occasions I myself get a cough, muscle aches, a stuffed or running nose I know it is cold or flu symptoms. No big deal. It's all down to the vagrancies of the British weather, my life style or maybe germs from other people in the air and on surfaces. Cheap doses of lemon/ honey and/or a 3p paracetamol/aspirin tablet will quickly cure me. I am a chef by trade, but having such symptoms won't stop me going to work either. (No worries people, I know what needs to be done to stop me or others cross contaminating any food in my kitchen work place).
Nominated by: Entopy