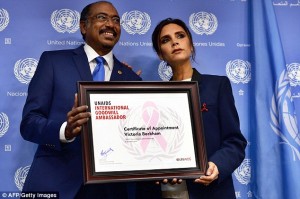 I am convinced that the world runs on irony. First the UN makes Tony Blair a peace envoy, then they give him an award as Philanthropist of the Year (I didn't even know he collected stamps!). Then the UN takes on Bono as special advisor to Wanky Loon. But now they've appointed none other than Victoria Beckham as an ambassador. FFS!
So what do you reckon Victoria? "Well, it's taken me to get to 40 to realise I have a responsibility as a woman and as a mother." Amazing! She's been a woman for 40 years and despite her three kids, she's just realised she's a mother.
"For some reason people will listen to me. This is the beginning of an incredible journey for me." Yep, I can't explain it either but I sure as hell agree that it's incredible.
Apparently she missed the opening of her shiny new London store to be there saying she felt her public profile meant she had a duty to do more about woman's health. Bollocks! The only thing Victoria Beckham ever gave a flying fuck about was Victoria Beckham and the promotion of Brand Beckham – so this all fits in as a nice little profile raiser and money earner.
I should know. I'm married to the cunt!
Nominated by: David Beckham