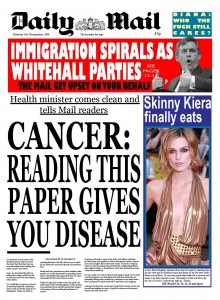 The Mail is the definitive cunt's newspaper.
Anyone who isn't from 'Middle England' or a Tory (or the fucking McCanns!) is 'scum' or fair game. When that Shannon Matthews story happened, The Mail screamed about it being a product of 'The Scrounging Classes' and 'Benefits Britain'. Yet when those McCann cunts leave three very tiny kids alone in a foreign country while Gerry and Kateypoos partied and got pissed, there was no mention of the McCann's shitty antics being a yardstick for 'Middle Class Britain', was there?
Utter hypocrites and total cuntwipes.
Nominated by: Norman Whiteside

Not sure if this a nom, or a declaration of love for how ridiculous their reporting is becoming. They ran a story a few days ago declaring that people are going to die as a result of an invasion of asian hornets entering the country. Apparently these illegal hornet immigrants have caused 50 deaths in France already,and are coming for our british honey bees.
However, they failed to mention that they will be putting our hard working british hornets out a job. That is just sloppy semi racist scare mongering journalism and they really need to work harder.
Nominated by: Daily Mail