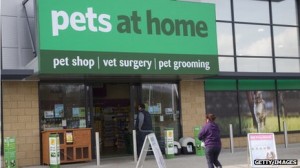 Pets at Home is a huge nationwide pet supermarket run by a bunch of cunts.
These cunts are selling off rescue cats and dogs that they got from the RSPCA and the Battersea Dogs Home and trousering the dosh. What a bunch of cunts.
But not as big a bunch of cunts as the charities that supply to them to flog on. Animal welfare organisations have fought for years to keep dogs and cats out of pet shops and you no longer see puppies and kittens in shop windows. So what's changed?
Bloody hypocrites!
Nominated by: Catwoman