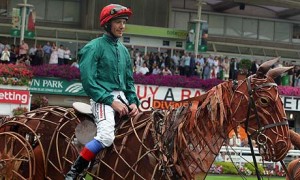 Frankie Dettori : one dodgy jock too dumb to realise that the recreationals go up the horse's arse, not up yer nose, cunt.
Time was yours truly had connections with the gee gees, Sport of Kings and all that. Level playing field, all the nags were fixed and all the jocks were juiced. Fond memories of little lisping Lester the Queen's jock, backed favourite, falling orf his "horth" at the last. Howls from the punters. Glory days.
Point is Sport of Kings? Dodgy jocks. Toerag owners. Chinless officials. Bastard bookies. Screwed punters.
Sport of Cunts.
Nominated by : Sir Limply Stokes