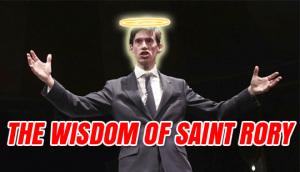 RORY STEWART (EX! -MP)
A very important cunting please for a very important little man, who has many important things to do (in case you haven't cottoned on yet – he's important) Yes 5 foot 2, eyes of blue, Rory Stewart is to stand down as an MP to become an "Independent" (that fucking word again!) candidate for London Mayor:
https://www.bbc.co.uk/news/uk-politics-49931937
Mr Stewart, it will be recalled, is that little man who came from nowhere (soon to return there) as a Gerry Anderson-inspired Remainer puppet, as a would-be Conservative leader three short months ago. He is another "I'll pretend I want a deal" bloke in the mould of Theresa May-Not. He soon got his marching orders, as he will no doubt will in the Mayoral contest – he isn't black, he isn't a woman, and he is a bit posh. No chance in Tower Hamlets.
Seriously, why is it that little men like to pretend they are big? Just as Lady Hilary Benn is the direct equivalent of Dominic Grieve, so is Rory to Gaylord Adonis – opposing parties, but with a great deal of self entitlement (and too much optimism)
Nominated by W. C. Boggs