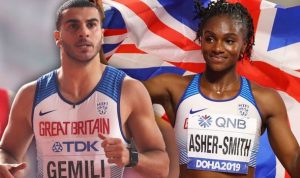 Nomination please for the 2019 World Athletics Championships in Doha.
Sport is of course a vice of mine, and I appreciate not everyone shares the sentiment. But this event encompasses so many cunts from so many elite tier corps, that it is an unmissable opportunity to gather said parties for a mass, machine-gun cunting.
i) First and foremost, the over-priced dust bowl that is Doha. With rich petrol-barons sheiking their over-inflated wallets to bribe the IAAF into awarding them these games, we have seen nothing short of a farce. Zero crowds, marathons on 40ºC heat and 70% humidity, and a sterile, soulless light show that makes even armchair sports wankers like me switch off.
ii) IAAF, for being a corrupt body of cunts, happy to sell out their athletes just for some of that lovely oil money. Oh, and also for dumping in 'mixed relays' at the last minute, just for those extra woke points of cuntliness.
iii) Sebastian Coe – a man so imbibed with the most potent of all cuntitudes, that merely typing this self-important behemoth of cunt's name causes an acidic aftertaste in the fucking mouth. This cunt of course presided over the corrupt bid for this joke of a championships, and has demonstrated time and time again – just as he did with his orchestrated deification at the London Olympics – what an epitome of all-time cunt he has become.
iv) The BBC. Now did you seriously think that the BBC would turn up to this shitfest and really let so many others steal their cunt-thunder? Not a fucking chance. Coverage which sees 90% pointless, cringeworthy chat between arch-cunts like Gabby Logan and Colin Jackson; over-repetition on any nameless, British also-ran performance, at the expense of actually opvering the sporting action in real time; wistfully reminiscing over Caster Semen-ya; pretending that Mo Farah isn't a cunt and worst of all, the unforgivable crime of giving Steve Cram gainful employment.
What an absolute festival of cunts. Roll on this Sunday when it is all over.
Nominated by The Empire Cunts Back