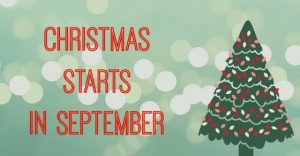 Compliments of the season to everyone.
Don't you just love Christmas? Chestnuts roasting on an open fire, Jack Frost nipping at your nose…
Er hang on, it's only the middle of September. Be that as it may, the shelves of my local supermarket are already bulging under the strain of Christmas puds, wrapping paper, selection boxes and mince pies. Charity letters extorting (sorry exhorting) us to 'think of those less fortunate than ourselves at this time of year' are dropping through my letterbox like dead flies. Caterers are urging us to make our Christmas meal reservation NOW. Any day now, you'll be flattened by a barrage of adverts which will hit you with all the subtlety of a brick behind the ear, aimed at twisting your arm into 'showing how much you love them' by laying out on that smart phone or playstation for JUST 299.99. I bet you just can't wait to walk into any shop and find they've got THAT cd on, the one with 'Simply Having A Wonderful fucking Christmas Time' and all that other shite on it. I know I can't.
Welcome to Christmas in September. Yes, only a little over 100 shopping days left to go. From here on in, every business big or small, every corporate money making machine has but one goal, and that's to part you from as much of your hard earned cash with as little effort and as much speed as is humanly possible. They desperately need our help in every boardroom in the country. They've got the size of shareholder dividends and fatcat bonuses to think about, poor buggers. So come on everyone, get out your credit cards and get those tills going; it's the only bells they're at all interested in hearing ring.
But don't worry, don't panic. You can have your tea before you rush out. The clocks don't even go back for weeks yet. If you miss Christmas in September, there's always Christmas in October, then Christmas in November…
I would say roll on the 26th December, but then the fucking sales will be in full swing. Cunts.
Nominated by Ron Knee