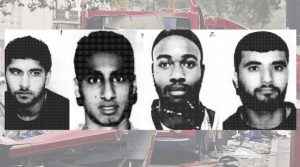 A severe cunting for the four bastards who killed 52 people in London on this day in 2005.
Mohammad Sidique Khan was the ringleader, recruiting sergeant and main financier of the 7/7 plot. He grew up in the Beeston area of Leeds. He killed six people at Edgware Road on the Circle Line.
Shehzad Tanweer was Khan's right-hand man in planning and executing the London bombings. Outwardly he seemed assimilated into British life, working in his father's fish and chip shop and regularly playing cricket. He killed seven people at Aldgate on the Circle Line.
Jermaine Lindsay was a Jamaican-born Muslim convert who never made a secret of his extremist views. He was brought up by his mother in Huddersfield, West Yorkshire, where he alarmed his teachers by attempting to radicalise impressionable younger pupils. He killed 26 people between King's Cross and Russell Square on the Piccadilly line.
Hasib Hussain was the youngest member of the terror cell at 18. He was an unexceptional teenager who had an ordinary upbringing in the Holbeck area of Leeds. He went on to kill 13 people on a number 30 bus in Tavistock Square.
Let's sincerely hope that these murdering cunts are rotting in hell wondering what the fuck happened to all those virgins they were promised. Islam is, of course, a religion of peace. Thankfully there's nothing quite as peaceful as a dead terrorist.
Ain't multiculturalism a wonderful thing?
Nominated by Dioclese