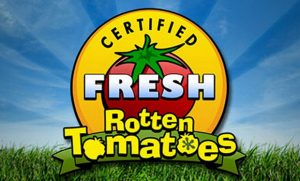 Here in the states social media sites have banned the posting of any negative reviews on that piece of politically correct piece of shit "Black Panther"! That's right NO negative reviews allowed.
Why? Supposedly, an alt right group planned to post a bunch of negative reviews on Cuntbook. Accordingly, libtards from coast to coast began foaming at the mouth. TV talking heads were spinning like Linda Blair and puking green bile all over the screen. POC's were confirming that indeed all of the world's ills were caused by Trump, the alt right and white people in general.
Then they were all giddy with glee because after the banning of negative reviews all of the critics were unanimous in their praise. (Imagine that.). There was even talk about how this would be the first time ever that Rotten Tomatoe's had a 100% movie review. (They participated in the ban too.). Yes boys and girls Black Panther was Gone with the Wind, The Ten Commandments and Lawrence of Arabia all rolled into one.
But then…wait for it…the unthinkable happened. A negative review was posted on Rotten Tomatoes. This review apparently slipped by because (a) it came from Europe and somehow was able to evade the alt right filter and (b) it contained no racial language that set off the troll alarms. It criticized the movie for what it claimed was a lack of action in a super hero film.
Cuntkind across the New World has been plunged into a collective state of deep, dark, depression.
In a twist all of you cunters in the UK will appreciate…the aforementioned negative review came from…an Irish critic! ? Some spud munching, Gaelic hipster threw a bomb…all the way across the Atlantic…and hit the the reigning melatonin enhanced super hero right in the ass.
Come on everyone…sing along with me:
Glory O, Glory O, for the bold Finian man!
Nominated by General Cuntster