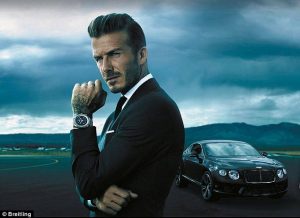 Nomination for fuckwitted thicko David Beckham. Unfortunately just switched channel to BBC1 and old dimbo is on the One (shite) Show sitting amongst a group of school kids. Now I judge, rightly or wrongly, a persons likely Intelligence Quotient by the number and locations of their 'body art'. This thick cunt has em all up the back of his neck and all over his fucking hands. Sitting there in his sweatshirt he wouldn't be out of place in a line of Death Row convicts. A more unnatural communicator would be hard to find with his limited and often childish awkward shyness and vocabulary. I think going for a pint with this boring muppet would have anyone reaching for the nearest corkscrew to jam up their rusty sheriffs badge to numb the fucking pain. Another case sadly of Awfully nice but shit thick.
Nominated by Kendo Nag
Thick cunt Beckham has become the face of a Chinese advert for "Cock Grease Pomade"
His image is being used to promote the brand of hair gel – whose slogan is 'Xxtra hard' – which is manufactured in Japan.
"Cock Grease" !!! I mean, you couldn't make it up, could you..?
Nominated by Dioclese