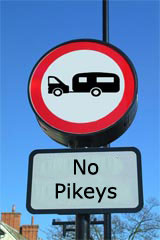 Pikeys are cunts.
In the 90s it was my misfortune to rehouse some of these cunts through the local authority. They couldn't hack the caravans with the onset of winter. One old thick Mick came in and said "Gimme a house I want a feckin house," On further interrogation as to his needs he said "I want a bungalow but I don't want one upstairs." You couldn't script it.
Sometime later I was called to a vacant property that had someone inside it. Two of us confronted a twelve year old little cunt named Rooney who had stripped out every door handle in the gaff and dismantled them, bagging them up into brass, aluminium and steel. He exited sharpish through a first floor window.
When the weather improved in Spring sure enough we got called out to abandoned properties one of which allegedly had a python in it so the chippies, sparkies' plumbers etc wouldn't go in. I entered to find every bit of metal stripped out. No light, fittings, no switches, no door handles, no wiring, no piping, no boiler, no sink, fuck all metal was left in it. All I found was the spare room badly converted to a reptile house and python skin on the floor that I thought initially was bubble wrap.
Now the council paid stupid money to a Travellers' Lisison Officer which was supposed to make the cunts conform somewhat. Nice but desperately hopeless bint who just took the money and did fuck all especially when the cunts fucked off with massive arrears.
The financial cost of NOT discriminating against these Irish/Gypo/Pikey/Tinker/Diddicoy/Traveller cunts was and is fucking ginormous. Even the local plod referred to them as TGBs (thieving gypsy bastards). It's like Roy Walker on Catchphrase, say what you see. What I saw was complete cuntery from absolute cunts. But who were the bigger cunts!?
Nominated by: Alan Fistula