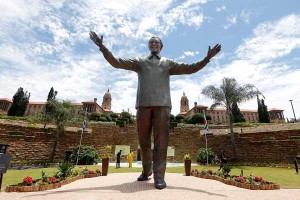 Of course they would they made nelson mandela a god and he was made into be some pacifist cunt who was non-violent. But really was a communist supported anti white cunt.
And his wife Winnie Mandela is a really evil cunt – just read her Wikipage on 13 April 1986, where she endorsed the practice of necklacing (burning people alive using tyres and petrol) by saying: "[W]ith our boxes of matches and our necklaces we shall liberate this country." Further tarnishing her reputation were accusations by her bodyguard, Jerry Musivuzi Richardson, that she had ordered kidnapping and murder.
Nominated by: Titslapper

I've seen the statue of Mandela in Pretoria. It's big and imposing. Really impressive…
…but what really impressed me was the pigeon shit dripping down the back of his head. Seemed to say it all!
Nominated by: Dioclese