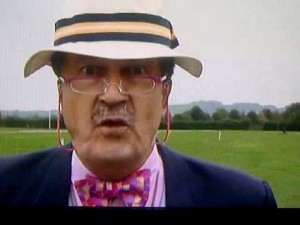 Nominated the fake as fuck auction rat with the horsey bray and the dodgy tache because the cunt's name is a gift. Camera mugging TV presenter johnnie who obviously reckons himself by sporting a brown trilby and designer cunt glasses. Attempts to carry orf the style of cutting edge old fogey. Nearest the cunt can get is old wanker. Catch the whiff of camembert between his toes.
So what about the county set vocal affectations? Orf we jolly well go ect ect. No genuine personage of quality talks laike thet. Fuck orf donchaknow.
Old mates with the sharks and hucksters out on the auction circuit. Former director of that den of thieves, Sotheby's. Demonstrates exaggerated and obsequious gratitude towards the criminal fraternity otherwise known as auctioneers. All mates together. Such a small world they can all fit in one cell.
This Wonnacot is one of the jaspers that has let the side down rather by publicising some of the dark arts of the auction world. Now the world and his wife are bidding lots up sky high on the internet. The days of finding a nice little Lely or a spot of Ming for no money in some dark and dusty corner of a provincial sale room are long gone. Tim Wonnacot? Fucking Wottacunt.
Nominated by : Sir Limply Stoke