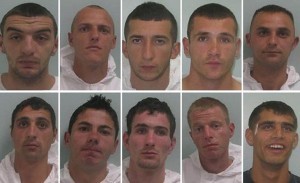 A dozen cunts from our new cousins in the Fourth Reich, Romania, giving us an advanced demonstration of what to expect once the flood doors open next January.
The cunts smashed their way into jewellers across London and pocketed a million quid. One of the fuckers told the cops 'I don't care, I go to prison to go on holiday.' Oi, Cameron you cunt, you listening yet? Prison here is better than being in their own country FFS!
And guess what? They're going to be deported when they come out. Just like Abu Qatada, eh? And the cunts will be straight back again on the next banana boat. The biggest cunts here are the British public for putting up with this shit.
Nominated by : Dioclese