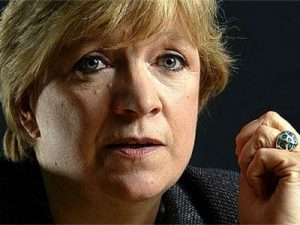 Of all the left wing professor pissflaps that I'd like to give a proper pasting nobody but nobody appears higher on my list than the despicable Polly Toynbee.
I genuinely can't get my head around this cunts sheer arrogance and double standards.
Like all her left wing contempories that vie for power or set themselves up as mouthpieces of the left Professor Pissflaps selective memory and rambling articles about income and wealth inequality represent a type of hubris that I find so staggering I kind of think at some point she's going to turn to camera and say 'I didn't mean it, I was just taking the piss'.
Most recently dear Polly has set her self up as a self appointed expert on the effects of Brexit.
On a recent episode of QT Polly was proclaiming Brexit would inevitably lead to 20/30 mile queues on the M20 on a daily basis if we left the customs union as customs checks would clog up the system. This was simply her 'belief' and she backed it up with absolutely no evidence at all.
When it was pointed out to Professor Pissflaps that the majority of cars exported by JLR go outside of the EU via Southampton and there was a perfectly good workable electronic system in place she simply gurned at the audience.
As this was on the AL-BBC she wasnt challenged but for how long are we supposed to tolerate hypocritical, twisted, vindictive nasty politically motivated privileged fucktards like Polly who've never ever worked in a role that involved wealth creation and yet we are supposed to see them as credible?
Fuck me Polly takes the fucking biscuit and if you want to hate her just a little more I encourage you to visit Guido Fawkes.
Her hypocrisy is staggering.
Nominated by CuntyMcCuntface