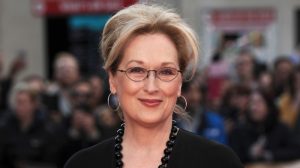 To divert criticism from herself regarding the Weinstein scandal (Streep says she was 'desperately silent'… So – a la Rantzen – she did fucking know!) this libtard twat is trying to point fingers at Melania Trump… It wasn't Melania Trump who was 'desperately silent' about a notorious Hollywood perv, was it?…
Streep has also (like that arch snowflake cunt and husband collector, Scarlett Johansson) aimed some snide shit at Ivanka Trump… Again, Ivanka didn't stay tight lipped about Weinstein…
Streep has also pulled a particularly dirty trick: by saying that Dustin Hoffman 'overstepped the mark' when he 'slapped' her during Kramer versus Kramer… Bringing up something that was nothing from over 30 years ago, to make someone look bad, just so she can look good?… Concorde conked cunt….
I despise Streep and these other libfuck cunts who try to blame everything on Big Don and his family… Even their own misdemeanors and shitty behaviour… A hurricane flattens Florida? That cumbucket cunt Jennifer Lawrence blames those who voted for Trump… Madogga has become an obsolete has been? She blames Big Don… Scarjo and her fellow Saturday Shite Live snowflakes aren't getting their way? She targets Ivanka Trump… Concorde Streep stays (cough) 'silent' over Weinstein? She somehow thinks that Melania Trump is to blame for the whole thing…
Cunts! Cunts! Cuntety Cunts!
Nominated by Norman