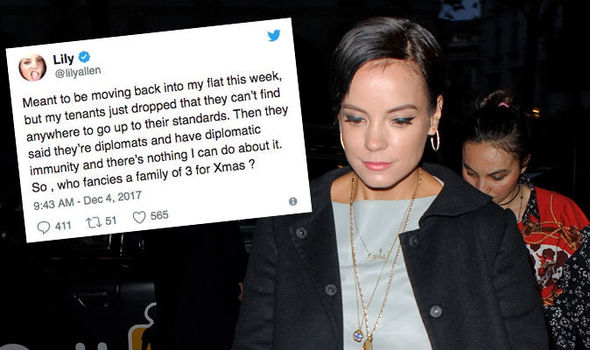 I would like to renominate the gobshite cunt that is Lily Fucking Allen again for being an absolute weapons grade, ocean going, treble cunt.
Lilly the musical mong who said she was going to let her high cost house out to refugees,has actually let it out to foreign diplomats who are now claiming diplomatic immunity and refusing to move out and there is fuck all the silly bitch can do about it. Lily is now saying she's going to be homeless and her very unlucky kids are going to have to endure her moving in with them for Xmas ho ho ho….
What a fucktard! I nearly soiled myself laughing its made my day. I hate asylum seekers but in this case I hope these termites manage to stay there for fucking years and we can look forward to lots of news pictures of the twat in tears looking for sympathy. You won't get any from me and if nothing else this should teach you a fucking lesson. If you go on the telly defending these fucking wasters and then making a big thing about renting them property you have opened yourself up to having them take the piss.
This is why people in the real world won't help. That's what you get and it just enforces the reasons for staying well clear of these cunts. Here endeth the lesson, you cunt
****** Happy Christmas, cunters ******
Nominated by fuglyucker