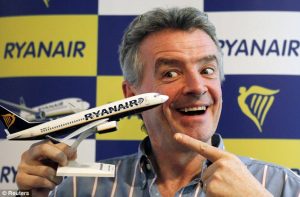 A cunting is surely deserved for shitcunt extraordinaire Michael O'Leary, the penny-pinching bastard behind Ryanair.
This fucker is the Mike Ashley of the skies. A mad little shit of a leprechaun, repeatedly sitting on his shit-throne screeching "me gold, me gold", the cunt has managed to make airlines yet another capitalist race to the bottom, by offering the shittest possible flying experience for a pittance. This cunt has exactly zero ethics outside of the balance sheet; and it only amazes me that it has taken this long for his truly shitty brand of air travel to monumentally fuck up his customer's en masse.
The tier of cunt who is universally despised, transcending class, political leanings and nationality, we can only hope that a stray engine falls off one of his crappy stock, plummeting down into his Leinster mansion and mangling the scrawny cunt into a veritable mess of blood, broken bones and shite.
Nominated by The Empire Cunts Back
O'Leary is one megacunt. So he has to cancel something like 50 flights a day for six weeks, that's 2100 fucking flights if my maths are correct and the cunt comes out and says it's due to a balls up with pilot holiday rotas, what a complete load of bollocks. Fuck me have they allowed all the pilots to take the same fucking holidays? Now he's been made to look an even bigger cunt by finally admitting they have a pilot shortage, the real reason for the cancellations. What an absolute PR fuckup, and by the person in charge. He couldn't organise a pissup in the Guinness factory, the twat.
Nominated by Lord Swinging Balls