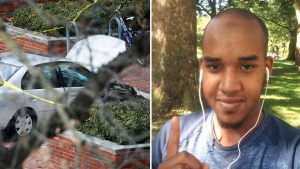 OSU terrorist's mother deserves a immediate cunting – She recently said "I love you my son. I know they kill you for no reason" at his burial. No No, No you stupid cunt! they did kill him for a reason.
To bring cunters up to speed he ran over 10 people and started stabbing the injured on the ground with a butchers knife every liberal snowflake mag in the country is shielding him like a innocent baby. Correct me if I'm wrong, but I think running over 10 people and then stabbing them is a very good reason to kill your stupid ratfaced son you cunt deport her trump she has to go back!
Artan added that he was scared about other people's opinions of him because of what he perceived to be negative portrayal of Muslims in the media, and criticized President-elect Donald Trump for not being "educated on Islam". Well all I know is when other people don't agree with me the only course of action is to run over them & stab them only seems logical right cunters? what better way to get educated on islam?!
"They aren't sending their best & brightest folks, they just aren't" -Trump 2016
Nominated by: Titslapper