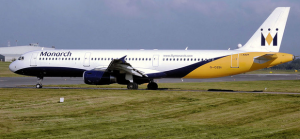 It was rumoured that Monarch was about to fold but this has been pooh-pooed by Monarch saying they're fine but have gone through a difficult period in the travel industry due to terrorist attacks, brexit and the plummeting pound.
I would like to cunt Monarch Airlines, not for being a shite airline – which they are – but because the last two points of their "lack of profits" excuse above are completely untrue and unrelated to their shit business model.
I will however accept that the number of people travelling may have been affected by terrorist atrocities caused by "peaceful" cunts.
Nominated by: Rebel without a Cunt!
Monarch – first they keep me fucking about wondering whether I had a flight home at the end of last week and then, to top it all off – they allow some dopy cunt of a woman to sit holding a bloody great suitcase on her lap for the whole 4 hour flight. Hit an air pocket and it would have brained some poor sod; if there'd been an emergency she was causing an obstruction.
The rules are there for a reason. Not only is this dangerous, but said bag contravened their size requirements. She refused to put it in the overhead locker when asked so the dozy fucking cabin steward let her sit holding it. Much as I despise Ryanair, she'd never have got the fucking thing on board in the first lace!
If this is the standard of people they employ and the way they uphold safety regs to prevent endangering life, they fucking deserve to go bust!
Useless cunts!
Nominated by: Dioclese