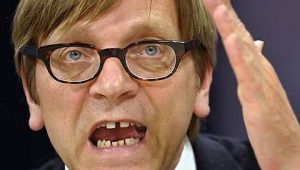 Christallfeckinmighty !!
This stinking turd has surfaced again, thought I'd got Hubbard Hall's plumbing sorted.
Needs a Kim-Mong nuclear-size cunting.
So glad to see that the EU favours the grossly physically repellent (doesn't Belgium have any decent dentists ??!) ; just like Hitler and his club-footed Minister of Propaganda. This one looks like he had a near-miss with a coathanger in utero.
What a bloody awful thought, Merkel (no doubt to be given the bum's rush by the Germans), will be sitting cosily alongside Kinnock of Bedwetty, Juncker and this unspeakable piece of shit…
Nominated by: HBelindaHubbard