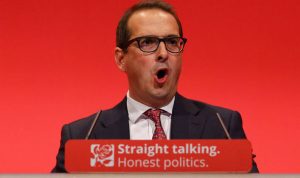 Owen Smith is a cunt.
Who the fuck is he? There are so few recognisable Labour politicians left, this turd is their best chance of getting rid of dreary bellend that is Jeremy Corbyn. Smith has the unenviable task of trying to appeal to the average labour voter, but also to the voters who have left to support ukip and the hard left workshy student type cunts who have hijacked the selection process, to put comrade Corbyn on a road to nowhere. Smith is another wishy washy politicunt, whose opinion seems to change day by day, depending what his handlers think will play well in the media.
Personally, I couldn't give a slug fuck what he says. I just hope he loses, because I fear he will give the world another excuse to slag us Welsh off for foisting him on the political scene.
Nominated by: Gutstick Japseye