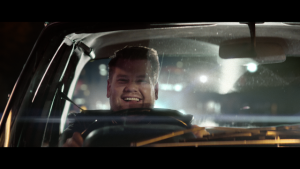 That unfunny pocine cunt James Corden deserves recunting.
He's had the opportunity, while doing his "hilarious" carpool karaoke to rid the world of dozens of the biggest twats on the globe. But no. Instead of hiring a 52-seater coach and driving off the edge of the Grand Canyon, he continues with his fucking shitefest of a life. Do us all a favour you lard-arsed wanker and get that bus hired! It's the only way you'll ever make me laugh.
Nominated by: Dick Fiddler

Are you confused.com about James Corden?
No. I'm absolutely certain he's an unfunny, sweaty, lard arsed cunt.
Nominated by: Dioclese