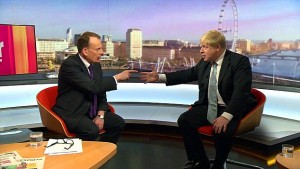 Anyone see Andrew Marr 'interviewing' Boris Johnson over the weekend? What a shower of shit!
The cunt Marr is the man who once called bloggers "socially inadequate, pimpled, single, slightly seedy, bald, cauliflower-nosed young men sitting in their mother's basements and ranting. They are very angry people." Too fucking right we're angry, Andrew, especially when we see failed third rate Jeremy Paxman wannabees like you being paid wads of BBC dosh to conduct interviews like this. You didn't listen to a single word he said did you? You just constantly interrupted and forced your own pathetic jaundiced viewpoint. To you the BBC is just a personal soapbox for your own aggrandisement.
And for the record I'm not socially inadequate or pimpled and I have a full head of hair (unlike Mr Marr). I'm married and respectable. I don't have a basement and my mother is long dead. And while you're slagging off bloggers, can I point out to you that your employers, the BBC, have some 200 odd blogs of their own.
Yes, I think we can safely say that Andrew Marr is an egotistical, inadequate hypocrite and a total unequivocal pissant of the first water!
Nominated by: Dioclese