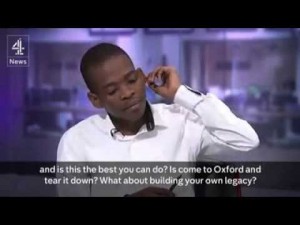 Ntokozo Qwabe needs a serious cunting. He's a South African student studying at Oxford. Qwabe is one of the leaders of a group cunt students, who are demanding that a Statue of Cecil Rhodes be removed, because it offends them. Naturally, Oxford have told them to grow the fuck up and get a life. Actually, they haven't they're being pussies, as left wing scum usually do.
Qwabe is exactly the type of foreigner I despise more than any other. More than muslims. The foreigner who comes to the UK, and then becomes politically active. I have to say, I'm sorely tempted to use a certain word starting with 'N' when talking about this piece of shit, but I won't. The big problem Qwabe has, is that his studies at Oxford are being funded by a scholarship set up by Cecil Rhodes. Although, this uppity n…err…non-white shit house, reckons that the money was stolen from his ancestors, so he's not in any way a hypocrite.
That aside, this jumped up little cunt has NO right coming to this country and telling US what to do. Tatchell and Greer have been allowed to get away with it. This prick should be told, in no uncertain terms, that he either shuts the fuck up and shows some gratitude for his FREE education, or he's on the first plane back to the shit hole he came from.
Nominated by: Quick Draw McGraw