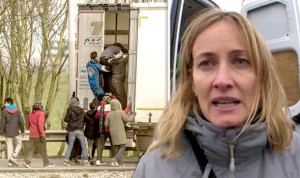 Care4Calais founder Clare Moseley deserves an extremely severe cunting.
This microbe of dogshit has just said that lorry drivers who complain about migrant attacks at Calais should change their job. WTF !!!!
Who the fuck does this fucking whore slag cunt bitch think she is?? Has she stopped for one minute to think that this country is an island, and as such cannot produce the required amount of food to support itself on its own. It therefore follows that said island needs to import large amounts of food to make up the shortfall and that a huge amount of said foodstuffs arrive here by LORRY !!!
It also follows that lorries need drivers, and for whatever reason they do the job is none of her fucking business. Lorry drivers are NOT the problem you thick cunt, the large amount of fucking shitskins trying to invade our once great country most certainly are. Now fuck off and die you massive fucking CUNT !!!
Nominated by: Captain Cunteye