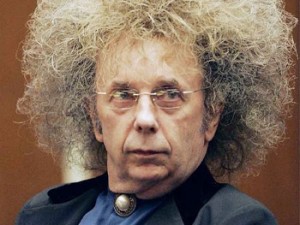 Phil spector is another cunt who thinks he's he is gods gift to humanity.
He's produced a few decent singles but he's a bit overrated I think.
The best thing Phil had was the Wrecking Crew that was his wall of sound but the term itself has been bastardized to the extreme like it was some grandiose thing. He died down in the 80's taking shite loads of cocaine and becoming a paranoid zombie then he killed some beautiful woman and he was waving his gun around like a foolish cunt and shot her now he's in prison playing with big bubba.
Nominated by: Titslapper

Spector was/is a twat… He terrorised Ronnie Bennett when he was married to her, he also fucked up The Beatles last (released) album… I also think he overegged George's 'All Things Must Pass….' Some fine songs on there (thanks to George), but why does that wall of sound have to drench everything? Also the percussion on most tracks sounds like someone shaking a box of cornflakes…
Spector was a cunt for his buddy buddy attitude to that other cunt, Ike Turner… Spector told everyone that Tina basically asked to be raped and beaten up by Ike…
Nominated by: Norman