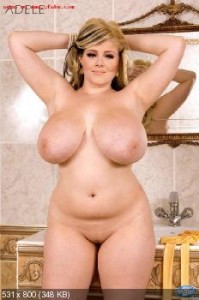 Break out the Gin and Razors, Adele has come out from a four year hibernation.
She has plastered herself on BBC, X factor (Should be cunted for that alone) and no doubt will go on more, stating she finds Fame and Stardom so hard to live with.
I would have thought the best advice for this bint therefore is not to further participate. Any right minded person would not go back into the spotlight if they then want to moan and leave it.
Do us all a favour and fuck off to where it was you were lying down for the last 4 years and harden up you cunt.
Nominated by: King Cunt

Adele is a piss poor Alison Moyet and a chav cunt got lucky… No doubt her new album will be a bout being dumped, hating her ex-boyfriend, being dumped, anguish at failed relationships, and … err… being dumped….
That 'Rolling In The Deep' is one of the worst songs in history… How can anyone roll in deep water? Surely they would fucking drown?! Stupid fat bitch…
Nominated by: Norman