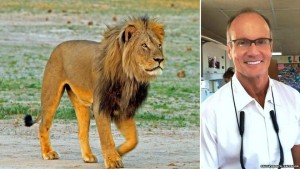 I'd like leave to rush through an emergency cunting of Minnesota dentist Walter Palmer.
Now I'm not normally one to jump on bandwagons or engage in witch hunts but I will make an exception for this small dicked cunt. For those not aware he is an American who paid $50 000 to shoot a lion with a crossbow . What the fuck for you may ask. Well other than he has psychopathic tendencies and can only get a hard on when he is engaged in killing something , I have no idea.
What a fucking CUNT !
Nominated by: The Cunt Factor

This particular treatment for the aforementioned cunt came to mind. Not sure why 😉
Nominated by: Dioclese

Fifty grand to shoot some old pelt with a crossbow? What a tosser. In me day I was taking oit tiger with me Lee Enfield bolt action. Only got once chance with one orf those if old tigger got wind orf you first and pounced. Play the whiteman. Give the beast a sporting chance donchaknow. Bastard bearers would invariably leg it leaving me on me todd. Nature red in tooth and claw. Would rather not supply the red so had an old large bore elephant gun as backup.
Problem is those bastards had a kick that would put one on one's arse and accuracy was not a strong point. Generally whatever took a hit was blown to pieces – head/arse/bollocks, – and bang goes me trophy. Blood bone and guts all over the shop.
Love to take that yank oit orn safari. Bush can be a very dangerous place and me old eyesight is not what it was.
Nominated by: Sir Limply Stoke