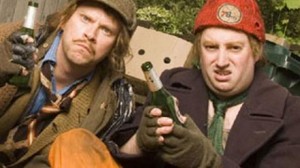 Got a 'bogoff' for y'all in those two utterly unfunny cunts Mitchell and Webb.
Fucking hell, how can that posh voiced twat Mitchell pull that posh blonde sort Victoria Cohen? Y'know that one with the amazin' set of tits.
She must have to wear a blindfold when the fat cunt hoists his folds on top of her.
Don't worry Dave, I'd happily stand in to give her a real seeing to, seeming as you probably couldn't find your microscopic cock anyway yer cunt!
As for Webb…..well there is only one proper description for him.
CUNT.
Nominated by: Hurling Dervish